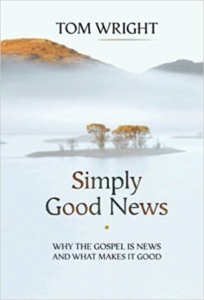 I read this book with a bible study group in the Jeruzalemkerk. Even though most of  us found the writing style really tedious, lots of repetitions, we still had a very lively discussion afterwards. He writes by giving loads of examples, all explaining another aspect of his point, but it is difficult to detect what the point is. What helped was that we had made summaries for each chapter, so that we could more easily see the structure.

There is also an interesting lecture by N.T. Wright on this theme on YouTube.
But the main message is very interesting. The theme of this book is, that Christians have a tendency to take one aspect of the gospel, and focus exclusively on that as being the entire good news. And through that, they actually lose the news itself and turn it into advice or a religious system.
I really agree with him, and for me this book comes at a time when I am beginning to see how limited my own views have been, and I found it very liberating and encouraging to be reminded that real healing and transformation is possible already now, however sporadically, knowing that we are still waiting for God's future when God will be all in all.
The last chapter was totally different in style and a great exception to what I said above. This was a very structured explanation about how most people seem to grow spiritually. He used the Lord's prayer to illustrate how we often come to God in the reverse order. I thought it was really funny and recognizable and encouraging. It changed the way I pray the Lord's prayer now. This really put it all together.