He has made everything beautiful in its time. Also, he has put eternity into man's heart, yet so that he cannot find out what God has done from the beginning to the end.Ecc. 3:11
Three years ago I wrote my first text, about contemplation, and now I pick up the topic again. High time to throw in some warnings, as seems to be quite the thing among contemplatives. One needs to speak about spiritual dangers, the courage needed, and the point of no return. Not to mention the need for a guide. No, I'm not being irreverent, but gravely serious. All these warnings make me wary, not because I believe them, but because they harm or manipulate vulnerable people. So here is my first warning: there is a danger in being too frightened, too obedient, it will stifle your life.
But, first things first: what is contemplation? There are several good definitions, but the one I like best speaks about devotion. There is something active in that word, a reaching out to God, in love. This is slightly different from what I wrote in my first text, though I still agree with most of that too. Right now, I'd say that our soul needs a connection with God, as a plant needs water to be alive1, and contemplation is caring for that connection.
In the previous paragraph, I've expressed my opinion, which is what writers do, generally. Even my children knew that, when they told me: "But mom, if someone writes a book, then that's just his opinion!". It was a lesson I needed to learn, when I was angry and upset about the book 'The Cloud of Unknowing'2. I gave it too much authority. Spiritual guides aren't there to tell you exactly how things are, or what to do. They share their experience, express their opinion. Our one and only true guide is Jesus, as I've depicted in my cartoon below3. Yet people are essential as well and I am most grateful to my children, who were (for a moment!) a guide to me.
Another warning I want to give is that it can be quite disturbing when the silence confronts us with too much pain in our hearts. There is a link between my attempting contemplation and my ending up in psychotherapy. It didn't cause the problems, but brought them to light, a little too fast. Not that I'm complaining4, for both together have been most helpful in healing. Thinking back, I'd say that things began to improve when I learned to be friendly to myself, and to believe in Jesus' friendly presence, as I've described in Warmth of Friendliness. One shouldn't be alone with such pain, perhaps that's where all the advice about needing spiritual guides comes from. But take care who you trust. There should be openness, and a friendly acceptance of how things are: no pushing, but giving space. I think such people can be found, if we open our eyes to see who God brings on our path.
All in all I am most glad that I found out about contemplation, as a means of caring for my relationship with God, discovering how he sees me, cleaning up what's not useful, daring to be open and show my true colours.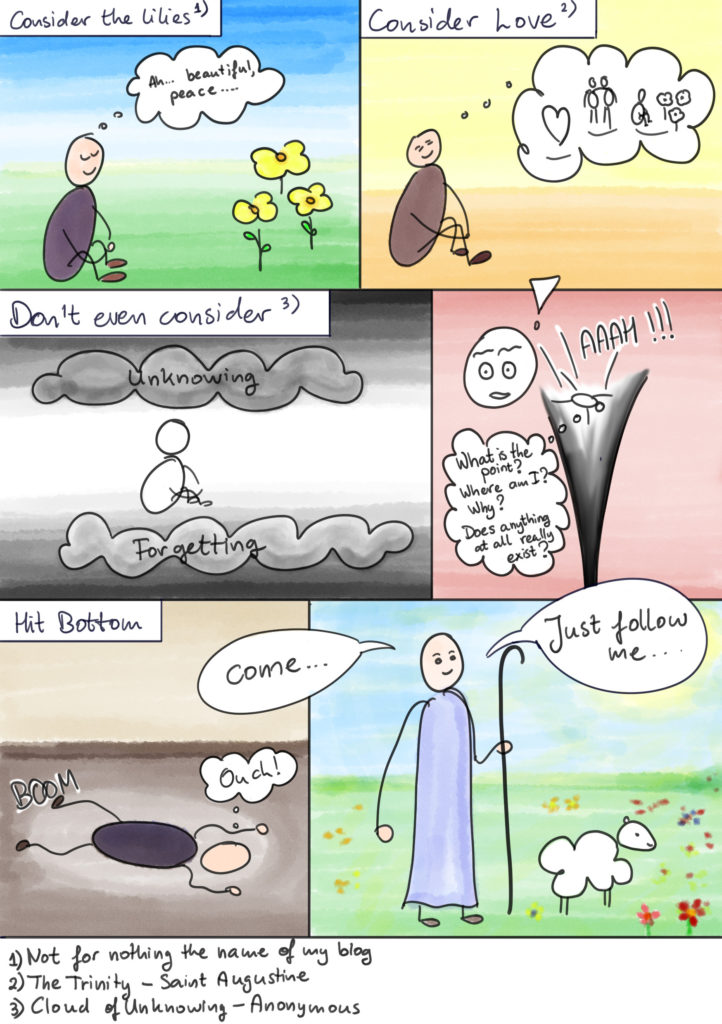 Footnotes